Vlastimil Samek, Head of the United Nations Information Bureau of the United Nations Department of Public Information gave an interview to an MBA student of KIMEP University.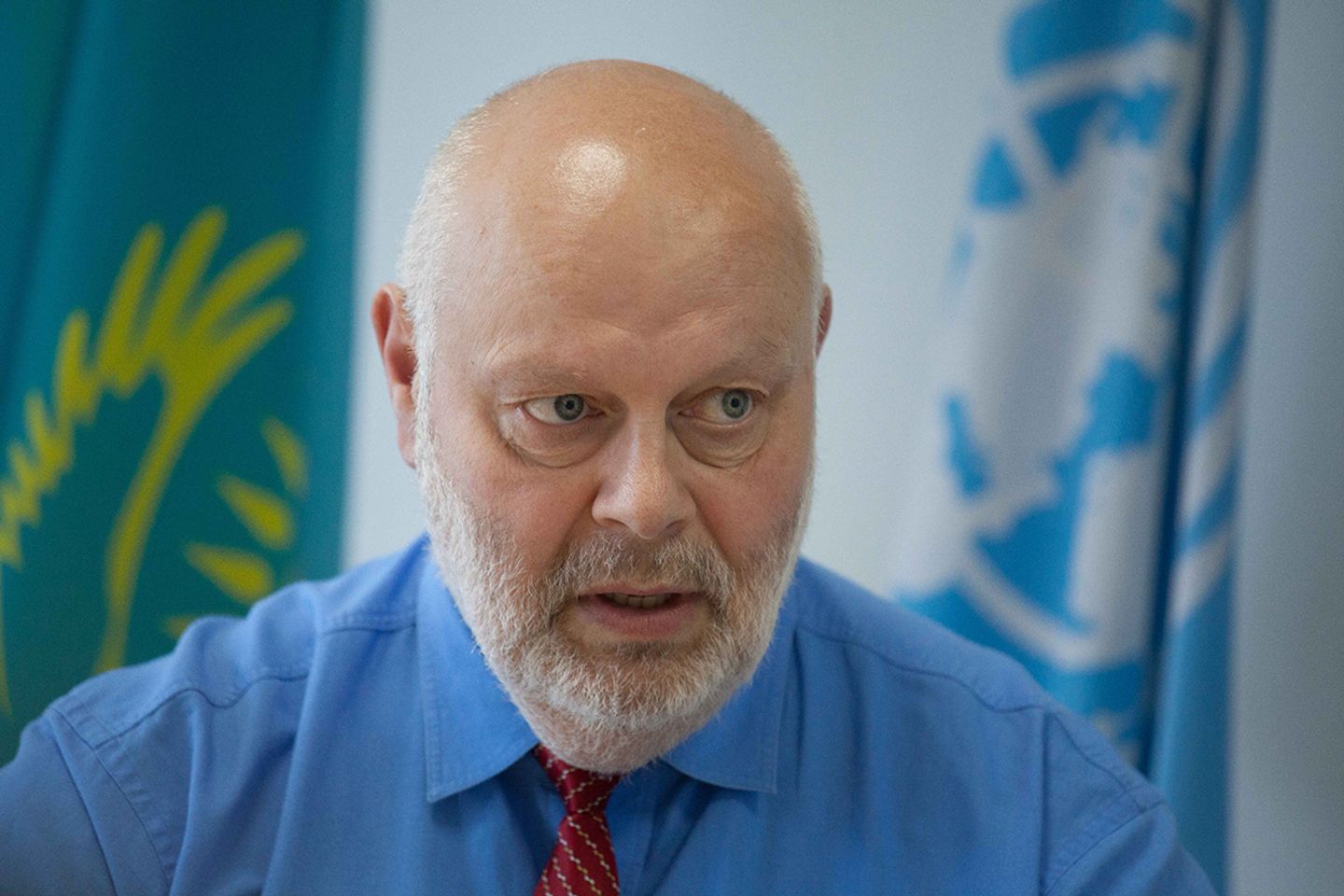 Vlastimil Samek, Head of the United Nations Information Bureau of the United Nations Department of Public Information gave an interview to an MBA student of KIMEP University.
Mr. Samek has more than 25 years of experience of working in different environments, mainly in Asia and Africa.
He spoke about global peace, the UN agenda and its activities as well as cooperation between the UN and Kazakhstan.
You are responsible for the United Nations Information Bureau in Kazakhstan.

What are your main functional responsibilities?
First, let me thank you for having the opportunity to meet and discuss.
We do appreciate the media interest in the United Nations. Actually, one of the main tasks of the activities of the UN Information Bureau is to raise awareness and to provide the public with relevant information about the UN activities at the global, regional and national levels.
I am truly impressed that today I discuss with a student of KIMEP University. KIMEP is one of the members of the United Nations Academic Impact Initiative. This UN initiative aims at a broader cooperation within academia on the global scale, so indeed it is something that also makes a difference.
For accuracy, let me just underline that the United Nations Department of Public Information, or DPI, was established in 1946 by the General Assembly Resolution, so it is already 71 years young. The main responsibility of the DPI is to promote global awareness and understanding of the work of the United Nations. We do this through radio, television, print media, the Internet, webcast, videoconferences and other media tools, but that is just part of DPI initiatives.
We are getting the news out, spotlighting the issues, focusing on the United Nations priority goals and issues and their impact on nations and people around the world. In addition to the key cooperation with the governments that represent the member states we are building partnerships with non-governmental organizations, economic communities, youth groups, media and celebrities - UN advocates and messengers. We are engaging the public through our activities and work, involving people in the work of the United Nations through, for example the network of the United Nations Information Centres. One of them is the United Nations Information Bureau here in Almaty.
In the UN New York headquarters or in other major offices of the United Nations, people can visit and see how this international organization works. For this purpose, the UN opened guided tours for visitors. Here in Kazakhstan we also offer similar possibilities, but on a smaller scale. For instance, we receive visitors from educational institutions, schools to familiarize them with the organization's work here. Such events are especially useful for students of elementary and secondary schools. In addition, we have an active exchange program for university students.
As I have already mentioned before, the United Nations Academic Impact (UNAI) includes many different universities in Kazakhstan. KIMEP University is an important member of this international initiative. The UNAI coordinates various briefings, video conferences, round tables and other educational activities with students. The program consists of various popular activities such as, for example the Model United Nations conferences. The last big annual event, the International New Silk Way Model of the United Nations took place on 28-30 April this year at Al-Farabi Kazakh National University. This university is also a member of the United Nations Academic Impact and concurrently serves as the United Nations Academic Impact Global Hub on Sustainability. This is a very important momentum. At present, we have entered the 15 year cycle of Sustainable Development Goals 2016-2030, and activities of the Hub are logically an important part of our efforts to highlight the significance of the SDGs.
If we look at it from a bit broader perspective, it is not a task for the UN only, but for all the governments representing the 193 UN member states that have signed an agreement on cooperation and achievement of the SDGs. Moreover, right now we have only 14 years left to achieve these seventeen sustainable development goals.
What is your mission in Kazakhstan?
Our main mission is to provide information, to share information, to raise public awareness about what the UN is doing globally, regionally and at the national levels.
The United Nations has 193 member states and Kazakhstan is a very important member.
We are actually meeting and having a discussion at a very significant time.
This year Kazakhstan is celebrating the 25th anniversary of becoming a member of the United Nations. The great reflection of these 25 years is very active, successful work and important international activities of Kazakhstan. For example, Kazakhstan has become a non-permanent member of the United Nations Security Council effective from 1 January 2017.
In our UN public information work we do our best to make the public aware of what we have achieved, what we do, and what we plan or expect to achieve. It is about explaining the key United Nations agenda, like specific nature of human development, human rights, gender equality, quality of education, climate change, migration & refugees, access to information, quality of life in general and, of course, environmental issues. All these tasks require joint and coordinated efforts of all the UN member states. In Kazakhstan, we have an ongoing cooperation initiative known as "Partnership for Development 2016-2020". It focuses on specific areas of cooperation between the UN and the Government. Our mission also includes the responsibility for sharing the information with the people of Kazakhstan and for making them aware of the existence of this program and its benefits.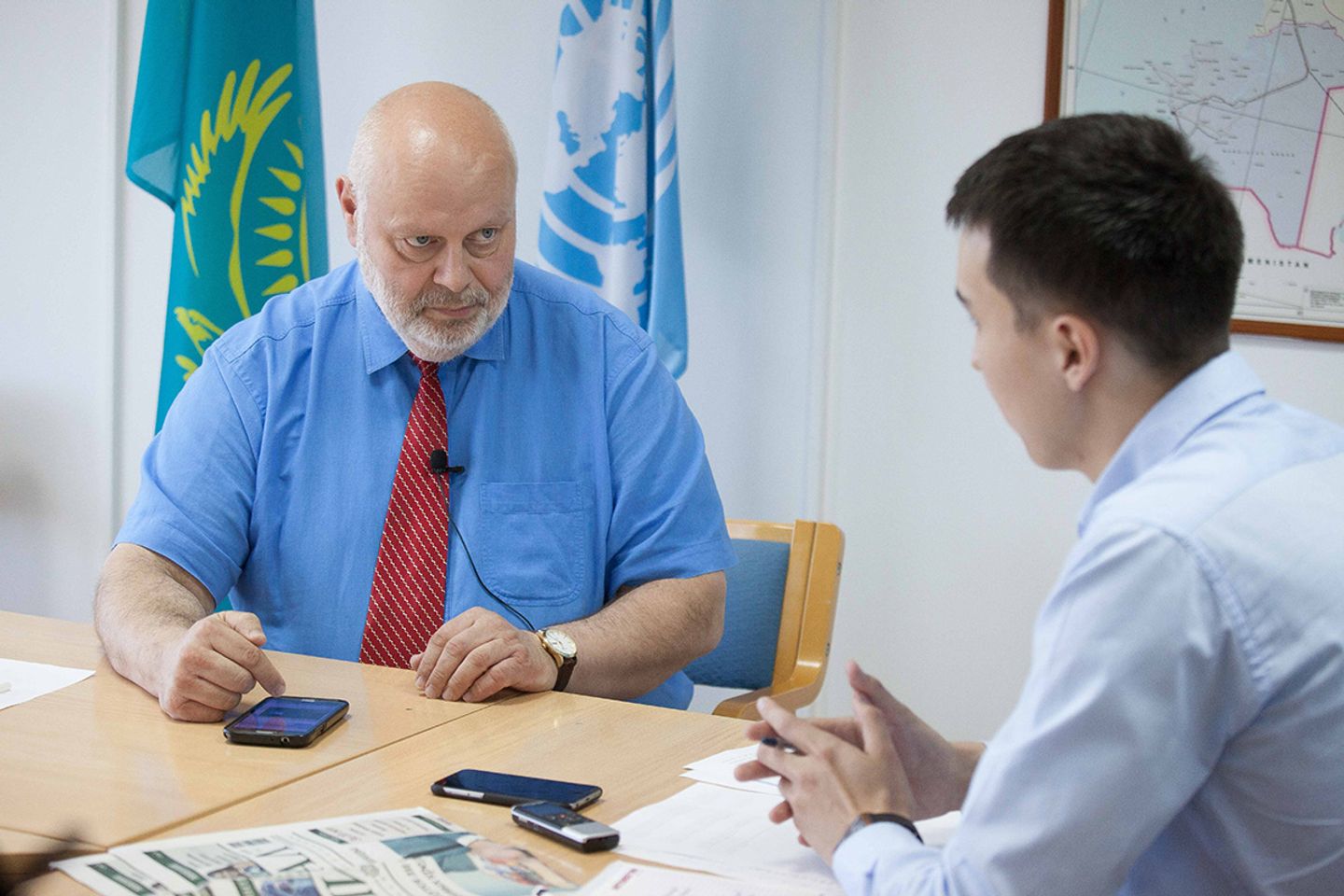 How would you describe the interaction and distinct features of sharing information between UN and Kazakhstan?
Very active. Very successful. I would also say very motivating and very inspirational in many ways. I would like to highlight one thing, which I think is very important from my point of view — the success of a country is always based on its leadership and how the people are motivated. When we talk about the broader dimension of the interaction between an international organization and its member state, it is also the story about how the diplomacy works. If I just reflect all these years of fruitful and active interaction, I see a tremendous work done by the government and the Ministry of Foreign Affairs of the Republic of Kazakhstan that is a key partner, among others. It does not mean that other ministries are not important. They are key partners as well, because every UN entity represented in Kazakhstan has its own specialized partner.
I would also like to highlight the important role of the Permanent Representatives representing Kazakhstan at the United Nations Headquarters in New York. During all these 25 years of its UN membership, excellent and brilliant diplomats have successfully represented the country and greatly contributed to the success of UN – Kazakhstan relations.
What are the main achievements of Kazakhstan since becoming a member of the UN?
There are many. One of the most important goes back to the very beginning of Kazakhstan's independence and entering the UN. It is the closure of the Semipalatinsk Nuclear Test Site. The fact that Kazakhstan has decided to make its territory free from all nuclear weapons is a huge and very significant contribution to global peace. It is something that Kazakhstan and its leadership is highly praised for at the global level. It is also one of the greatest investments in the future of the country and the nation. When we talk about global development, every success always depends on peace. What Kazakhstan has done is one of the greatest examples how things need to be done, and as a human being living on this planet, I wholeheartedly applaud and thank Kazakhstan for making our world a safer place to live.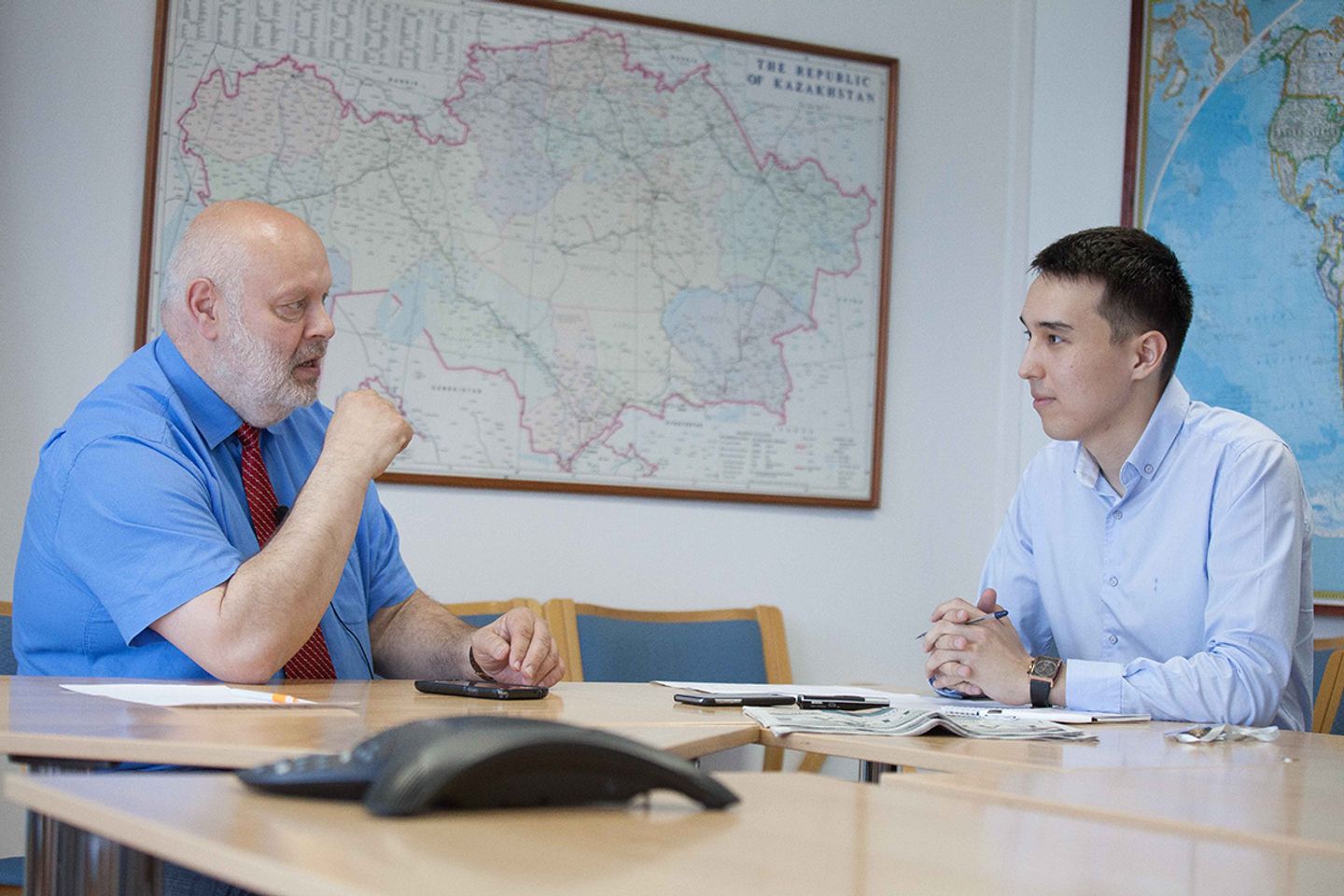 Is it allowed to be a UN representative and own a business?
Good question and a simple answer. It is not possible. For a UN employee it would represent a conflict of interests. I am reflecting the rules for the UN staff. However, for example, the United Nations Messengers of Peace, like famous actor Leonardo DiCaprio are not included in this rule, as he is an actor, not a UN employee.
Imagine that an institution would employ you and at the same moment, you would be running your business related to what you responsible for there. It would represent a conflict of interests.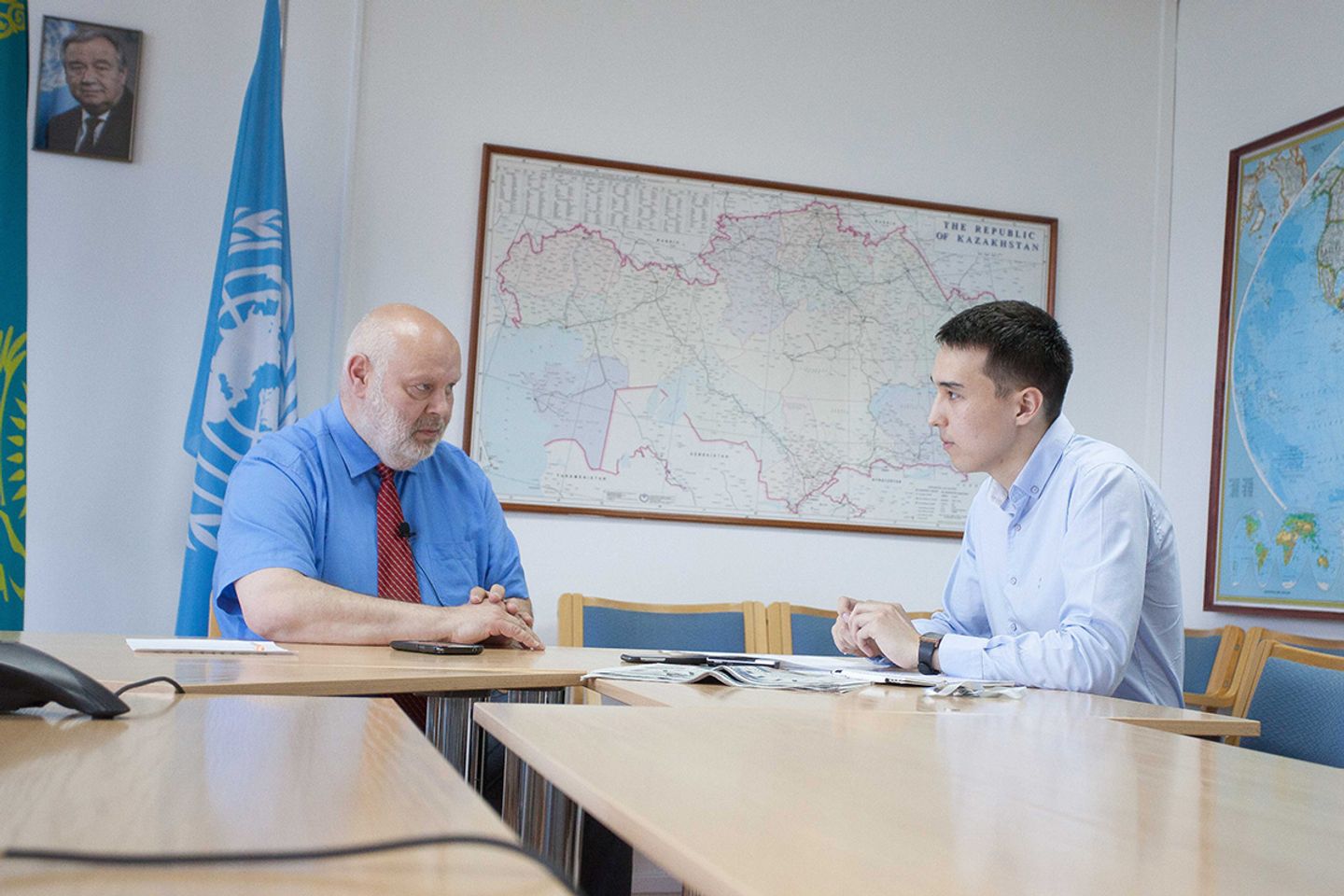 How do you see the future cooperation between Kazakhstan and the UN?
We should do our best to make it as successful as possible. The UN has existed for 72 years already, but it is still a very young organization if we compare it with the overall history of the existence of the world. Kazakhstan celebrated the 25th anniversary of its Independence last year. Since then a lot has been achieved. When we try to look into the future we should see the reflection of the past, we should see the reflection of what we want to achieve and why. For example, the UN was founded in 1945as a response to the consequences of the Second World War. Its main responsibility is to prevent global conflict, because another world war would be the ultimate disaster and most probably the end of our civilization. In our activities we sometimes succeed, sometimes we do not. Nevertheless, all our efforts should always aim at maintaining the global peace.
Let me reflect two great things related to global peace and Kazakhstan. No nuclear arms and no nuclear tests. Another important contribution is the Astana peace talks on Syria. When we achieve a peaceful solution to the problems in Syria, it will create a solid basis for future contributions and commitments related to the peaceful solutions of conflicts in other parts of the world. Hopefully, this could make our world more stable and sustainable. Something that we should not be taking for granted. It should always be our ultimate task and priority. We really have to do our best to achieve and maintain peace. It should not sound just as a phrase. The world peace should not be a dream, but achievable reality. This is also an absolute priority for both the United Nations and Republic of Kazakhstan in case of future cooperation aimed at making our planet safe and sustainable.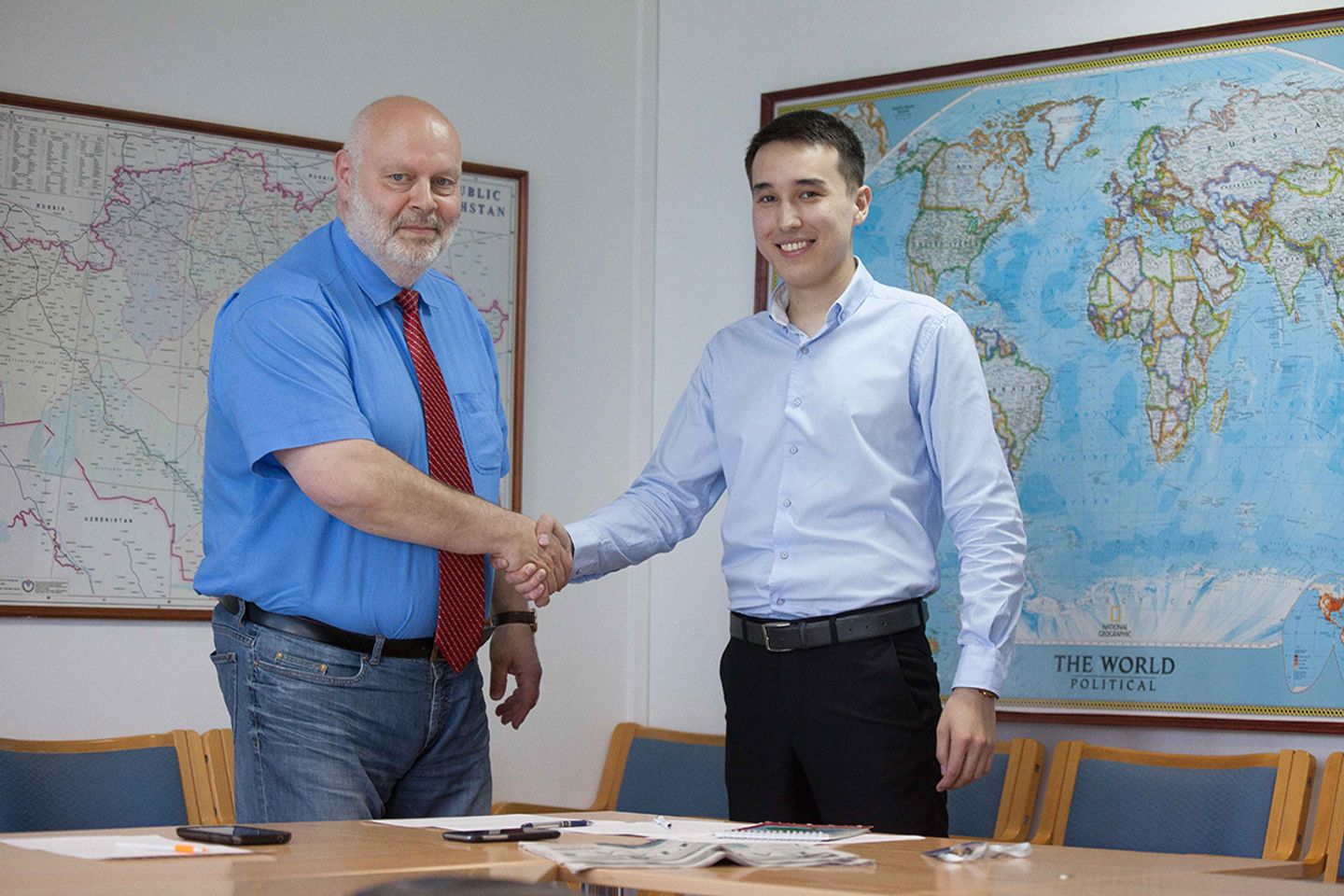 What was your first impression of Kazakhstan?
A very interesting and a good question. Thank you. My impressions have not changed since I arrived. Positive. I definitely see Kazakhstan's tremendous continuous progress and movement forward. Changes are taking place every year. Many impressive developments are taking place. Not only in Almaty where our office is based, but also in the capital of the country - in Astana, as well as in other cities, in the countryside — auls, in all the regions. These achievements definitely impress. For instance, the infrastructure development, access to Internet, as well as many other moments. Practically, there is no place in Kazakhstan without access to the Internet. Access to information helps us to achieve goals that we have set for ourselves in 21st century.
The "Future Energy" EXPO 2017 in Astana is sending a clear and promising message in respect of our global environmental responsibility.
It is very rewarding to have the opportunity to witness new developments happening around us in Kazakhstan every day. Wonderful nature, rich culture, impressive history, great people and also the interaction between the people of Kazakhstan and the United Nations through joint projects, discussions, initiatives as well as many other activities.
We all mutually benefit from this interaction and I truly and greatly appreciate it.
I wish the people of Kazakhstan and your beautiful country peace, success, prosperity and happiness.
При работе с материалами Центра деловой информации Kapital.kz разрешено использование лишь 30% текста с обязательной гиперссылкой на источник. При использовании полного материала необходимо разрешение редакции.